Job Description
Intern IT Security Engineer
Bloomington, Minnesota
Apply Now
Quick Apply
Description
(Overview)
Position: IT Security Engineer Intern
Location: Bloomington, MN
About the Company: At Schwan's Company, we are a fast-paced, innovative team, focused on bringing delicious foods to our customers. If you're passionate about food and creating a successful future, this is the place for you. Based in Minnesota, Schwan's is a national, multibillion-dollar company that manufactures and markets quality foods through retail-grocery and food-service channels. Its many popular brands include Red Baron®, Tony's® and Freschetta® pizza, Mrs. Smith's® and Edwards® desserts, and Pagoda® Asian style snacks. To learn more about Schwan's, visit www.SchwansCompany.com.
About the Program:
12-week long internship program (Typically May-August)
Opportunity to work on and take responsibility for exciting, strategic projects that are relevant to your coursework with real-world applications
Exposure to upper level management, executives and the CEO
Opportunities for career growth with a well-established food company. Internships at Schwan's often lead to full-time job opportunities upon graduation
A culture focused on ensuring the health, safety and well-being of its employees
Support and mentorship from team members who are authentic, good-natured and highly skilled
Competitive wages, incentive pay and a comprehensive package of benefits (if hired on full-time)
The Position: We are looking for a IT Security Engineer Intern to work with Information Technology team in our Bloomington, MN location. Under general direction, the IT Security Engineer Intern is responsible for coordinating, implementing, and monitoring the technical security infrastructure to safeguard information and systems against unauthorized use, disclosure, modification, damage or loss.
What you will be doing:
Designs and implements the IT security infrastructure in partnership with IT Operations and Solution Delivery team(s).
Manages and conducts vulnerability scanning and assessments regularly as directed for the environment.
Performs security technology audits, and recommends cost effective mitigating controls.
Monitors the internal and external environment for security related risks and notifies the management on suspicious activities or incidents. Support the incident response plan and process, and investigations as required
Assesses information security infrastructure and recommends enhancements to support the enterprise security strategy; works closely with other areas of IT to test, plan, and implement security technology for the enterprise.
Researches, recommends, and/or implements security technologies, and remediation approaches while building and maintaining relationships with external security partners and professional organizations.
Serves as the communication security custodian specifically related to PKI, certificate management, and encryption.
Demonstrates understanding of regulations and standards that apply to The Schwan Food Company. (PCI, HIPPA, PII, etc...)
Responsible to conduct yourself in a manner consistent with company mission, values, code of ethics, policies, and other standards of conduct.
Security expertise of security tools (i.e. next generation network and application firewalls, intrusion prevention systems, encryption, identity and access management systems, file integrity monitoring, network access control, privileged identity management systems, security and information event management systems, secure configuration management systems, forensic tools, etc.);
Cloud security experience on major vendor platforms, mobile device security, Intermediate proficiency with numeric data analysis;
Strong communication and interpersonal skills;
Solid understanding of current and evolving technologies;
Certifications demonstrating trust and expertise across all components of information security ( e.g. CISSP, CISM, CISA, etc.) are preferred.
Currently earning a Bachelor's degree in computer science, cyber security, or related programs, with an anticipated graduation date of December 2020 or May 2021.
Job Type: Non-exempt Business Unit: Schwan's Shared Services, LLC Req #: 19011681
Apply Now
Quick Apply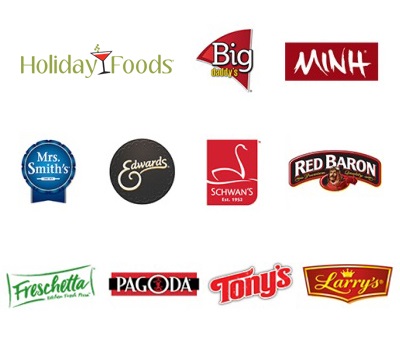 Holiday Foods
Big Daddy's
MINH
Mrs. Smith's
Edwards
Schwan's
Red Baron
Freschetta
Pagoda
Tony's
Larry's