Job Description
Associate Project Engineer
Bloomington, Minnesota
Apply Now
Quick Apply
Description
(Overview)
At Schwan's Company, we are a fast-paced, innovative team, focused on bringing delicious foods to our customers. If you're passionate about food and creating a successful future, this is the place for you. Based in Minnesota, Schwan's is a national, multibillion-dollar company that manufactures and markets quality foods through home-delivery, retail-grocery and food-service channels. Its many popular brands include Red Baron®, Tony's® and Freschetta® pizza, Mrs. Smith's® and Edwards® desserts, Pagoda® Asian-style snacks and Schwan's® home delivery. To learn more about Schwan's, visit www.SchwansCompany.com. 


We are hiring an Associate Project Engineer in our Bloomington, MN corporate office. The Associate Project Engineer takes direction from leaders and assists the project management team on elements of large-scale initiatives and capital projects within a specific platform or manufacturing site. The engineer will assist in the development of fully executable projects from the conceptual phase through execution and commissioning. This position will provide opportunities to further enhance engineering concepts and functions.


What you will get from us:
• A culture focused on ensuring the health, safety and well-being of its employees
• Support and mentorship from team members who are authentic, good-natured and highly skilled
• Competitive wages, incentive pay and a comprehensive package of benefits


Responsibilities:
• Provides project management assistance for assigned engineering projects.
• Assists in overall project design including line specification, project budgets, schedules, project justification and develops capital requests, including cash-flow forecast.
• Performs engineering analysis to provide recommendations on specific actions.
• Coordinates external engineering services and partners with internal team as needed for successful project completion.
• Identifies and manages capital and related expenses, optimum layout, equipment selection and timeline.
• Takes direction from project management team in order to fulfill requirements for the design, implementation, and start-up phases.
• Assists the internal engineering team on cross-functional corporate capital projects.
• Builds understanding of industry technologies and processes to provide best available technology solutions.
• Working knowledge of (EHS) environmental, human and food safety systems as they apply to processing systems.
• Applies learning and experience to solve problems and drive improvements on processing systems and manufacturing operations.
• Collaborates with R&D and business teams on tests, trials, and new products.
• Responsible to conduct yourself and ensure your subordinates (if applicable) conduct themselves in a manner consistent with company mission, values, code of ethics, policies, and other standards of conduct

What we need from you:

Years of Experience:
0-3 years of related experience.

Education: Bachelor's degree in Mechanical, Chemical, Electrical, or Industrial Engineering (ABET accredited program preferred).


Knowledge/Skills/Abilities:
• Demonstrates developing knowledge of project management, problem-solving, decision making, trouble-shooting, communications, interpersonal skills, and readiness to learn and understand basic engineering concepts.
• Ability to take direction and to work with diverse groups at various levels and across functions.
• Knowledge of Lean Six-Sigma concepts and ability to use a CAD System is preferred.
• Ability to learn and understand USDA, FDA, OSHA, EPA, City and/or State agencies, etc. for both manufacturing processes and building requirements.
• Ability to travel 0 to 50% as required (dependent on location).



The employing subsidiaries of Schwan's Company are Equal Employment Opportunity Employers. All qualified applicants will receive consideration for employment without regard to disability, age, race, color, religion, gender, vet status, national origin or other protected class.

Job Type: Exempt Business Unit: SFC Global Supply Chain, Inc. Req #: 19010329
Apply Now
Quick Apply
Our Brands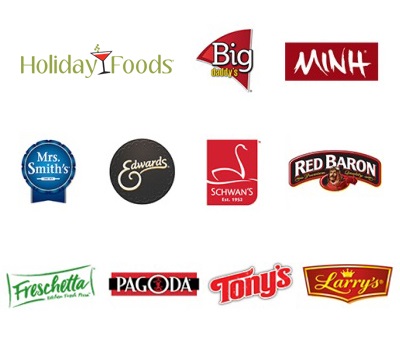 Holiday Foods
Big Daddy's
MINH
Mrs. Smith's
Edwards
Schwan's
Red Baron
Freschetta
Pagoda
Tony's
Larry's