Looking for Home Delivery?
Looking for a career in home delivery? Schwan's Home Service recently began its journey as an independent company, but you can visit www.schwans.com/jobs to learn more about what they have to offer.
Job Description
Associate Marketing Manager - Red Baron
Bloomington, Minnesota
Apply Now
Quick Apply
Description
(Overview)
Schwan's Company, a U.S. affiliate of the global lifestyle company CJ CheilJedang Corporation, is a leading U.S. manufacturer and marketer of quality foods offered through retail-grocery and food-service channels. Its many popular brands include Red Baron®, Tony's®, Big Daddy's®, Villa Prima™ and Freschetta® pizza; Mrs. Smith's® and Edwards® desserts; and Pagoda® Asian-style snacks. To learn more about Schwan's, visit www.schwanscompany.com.

We are searching for an Associate Marketing Manager to work within our Consumer Brands business unit.  In this role, you will be responsible for driving profitable, sustainable topline growth for our iconic brand, Red Baron pizza!  You'll receive an opportunity to hone your skills in brand building, innovation and renovation, with a heavy focus on product development, project management and customer development.  You will also work with a cross-functional team to develop brand new food items – from ideation to execution -  and have input into a multiyear planning process.  You will also get experience with integrated marketing communications. 
In joining Schwan's as an Associate Marketing Manager, you are joining a marketing team that invests in your development and supports development moves within and across the function.  You will have opportunity to build both marketing competencies and leadership skills to accelerate your career. 
Responsibilities may include:
Lead cross-functional teams in execution of business plans, including commercialization of new products, product renovations, and/or marketing communication elements
Lead stage gate process, including new project kick off, action planning, holding team accountable for deliverables and presenting to senior leadership at gate meetings
Participate in creating annual business plans and three year strategic growth plans, including sales and profit forecasts, P&L management, as well as product, promotion, pricing, distribution strategies and tactics.
Supports development of integrated marketing plans, partnering with brand teams, internal and external agencies
Monitor trends, competitive activity, and use available data sources (qualitative and quantitative) to identify and recommend business growth opportunities
Collaborate with internal and external partners to evaluate and increase the effectiveness of current in-market marketing programs
Analyze and investigate variances between actual and projected revenue and profit
Manage marketing budget
Analyze multiple categories to understand consumer jobs to be done, underlying performance drivers, identify whitespace and define topline growth opportunities
Creatively assess category opportunities and define Schwan's brand's sustainable competitive advantage and differentiation in that space
Develop holistic business cases to justify time, dollars and resource investment
Education: MBA completed or in last semester of study and able to work full time while finishing MBA program.
Years of Related Experience: Typically has a minimum 4 years related experience, prior to MBA.
Knowledge/Skills/Abilities:
Intellectually curious, analytically minded and passionate "self-starter"
Consumer first mind-set
Excellent communication skills including strong presentation skills
Interpersonal effectiveness
Thorough understanding of general business principles, including effective analytical skills
Strong project management skills including detail orientation
Ability to work collaboratively and lead cross-functional teams to deliver results
Passion and accountability to drive growth
The employing subsidiaries of Schwan's Company are Equal Employment Opportunity Employers. All qualified applicants will receive consideration for employment without regard to disability, age, race, color, religion, gender, vet status, national origin or other protected class.
Job Type: Exempt Business Unit: Schwan's Consumer Brands, Inc. Req #: 20000373
Apply Now
Quick Apply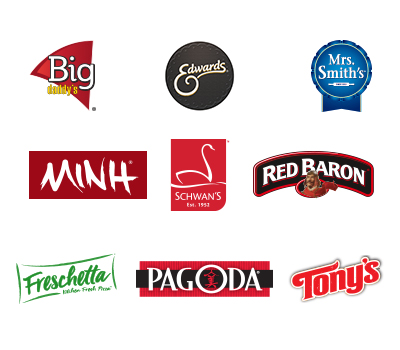 Holiday Foods
Big Daddy's
MINH
Mrs. Smith's
Edwards
Schwan's
Red Baron
Freschetta
Pagoda
Tony's
Larry's